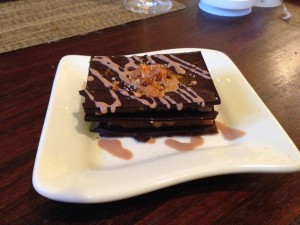 Leaves of Dark Chocolate, Milk Chocolate Biscuit, Praline Feuilletine, Peanut Caramel, Milk Chocolate and Praline Cream
Courtesy of Executive Pasty Chef Michael Laiskonis
Le Bernardin – NYC
Yield: 12 servings
Dark chocolate plaquettes, 2 1/2″ by 3 ½" –  36 each
Milk chocolate biscuit 12 each
Praline feuilletine 12 each
Milk chocolate cream 12 Oz
Peanut caramel, 2 X 3 inch rectangles 12 each
Praline cream 1 C
Maldon sea salt, as needed
Editable gold as needed
Instructions:
1. Place 1 chocolate plaquette onto each plate and top with 1 milk chocolate biscuit.
2. Top biscuit with a second plaquette, add a smear of praline cream and 1 rectangle praline feuilletine and another smear of praline cream.
3. Pipe 2 lines milk chocolate cream onto feuilletine, and top with 1 final chocolate plaquette.
4. Sauce plate with chocolate sauce and praline cream. Sprinkle with scant grains of sea salt, and editable gold and serve.
To make the Dark Chocolate Plaquettes
Melt 3/4lb – 1 lb of dark chocolate in a double boiler and then spread into a mould.  I made a mould by purchasing 4 silicon sheet, 1.2 mm thick, and the cutting the rectangles 2 ½-inches by 3 ½-inches though 3 of the layers and stacking them.  I let the chocolate set up for about 30-minutes and the removed the silicon mould and plated in refrigerator for about 30-minutes to harden and transfer to a air-proof container.
MILK CHOCOLATE BISCUIT
Yield: 12 servings or 1/2 sheet pan
Cake flour 2 Oz
Granulated sugar 6 1/2 TBS, divided
Unsalted butter, softened 1/2 C
Milk chocolate couverture, melted 5 1/2 Oz
Eggs, large, separated 4 each
Invert sugar 1 TBS ( Substitue corn syrup)
Instructions:
Sift together flour and 4 tablespoons sugar. Reserve.
In a medium-sized mixing bowl, thoroughly incorporate butter into melted chocolate. Stir in egg yolks and invert sugar. Reserve. In a separate bowl, whip egg whites to soft peaks, adding remaining sugar. Fold in sifted cake flour, then milk chocolate base. Transfer batter to a parchment-lined half sheet pan, spreading into a thin, even layer. Bake in a convection oven preheated to 325 degrees F 10 to 12 minutes. Cool in refrigerator, then cut into 1-inch by 3-inch rectangles. Reserve, refrigerated.
PRALINE FEUILLETINE
Yield: 12 servings
Milk chocolate, melted 2 Oz
Praline paste ½ C (Recipe listed below)
Feuilletine 1 ½ C (Recipe listed below)
Instructions:
1. In a large bowl, combine melted chocolate and praline paste. Stir in feuilletine until completely combined. Roll to 1/4-inch thickness between 2 pieces of parchment and reserve, chilled. Cut into 1-inch by 3-inch rectangles. Reserve.
MILK CHOCOLATE CREAM
Yield: 2 C,
whippedHeavy cream, 35% fat 1 1/4 C
Milk chocolate, chopped 5 Oz (Original Recipe called for 3oz)
Instructions:
1. In a small saucepan, bring cream to a boil over high heat. Place chocolate in a bowl and slowly incorporate hot cream in to chocolate, stirring until smooth. Cover and reserve, refrigerated, several hours. Transfer to bowl of an electric stand mixer and whip until stiff. Transfer to pastry bag fitted with large, straight tip. Reserve.
PEANUT CARAMEL
Yield: 1 12 X 8-inch sheet
Granulated sugar 3/4 C
Glucose syrup 3 TBS
Heavy cream, 35% fat, warm 3/4 C, divided
Milk chocolate, chopped 3 1/2 Oz
Peanuts, roasted, salted, chopped 12 Oz
Instructions:
1. Combine sugar and glucose in a heavy, non-reactive saucepan and cook to medium dark caramel. Remove sugar from heat and deglaze pan with a portion of warm cream. Add remaining cream and cook until caramelized sugar has dissolved and mixture is homogenous. In a separate large bowl, combine chocolate and peanuts. Pour hot caramel into chocolate mixture, stirring to combine until chocolate melts and is thoroughly incorporated. Pour onto silicone baking mat-lined frame or other form; reserve to set at room temperature. Reserve.
PRALINE CREAM
Yield: 1 C
Heavy cream, 35% fat 1/3 C
Praline paste 3/4 C
Instructions:
1. In a small saucepan, heat cream just until warm. Place praline paste in the bowl of an electric standing mixer fitted with paddle attachment, then slowly incorporate cream, mixing until completely emulsified. Reserve.
Pailleté Feuilletine
1/4 lb Butter
1/2 Cup Sugar
1/2 All Purpose Flour
1 Egg White
Pinch Of Salt
Mix the ingredients, spread very thinly on a parchment or silicone mat lined baking sheet, and bake at 400 F until golden brown, about 5 minutes. If you are going to roll or mold them, do so when they are still very hot.
You could then crush it for . If you are going to do crush them, there probably is little point in rolling or molding them.
Praline Paste
People tasting praline paste for the first time tend to fall to their knees and weep for all the wasted years. For while it is an ingredient, it's also a spread in its own right, a sweet nut butter with strong caramel overtones. You'll need to resist the urge to keep spooning it into your mouth until it's gone. The formula is elementary: 1-1 sugar to nuts by weight, but most people like to divide the proportion of nuts between blanched almonds and hazelnuts. So let's say, for purposes of argument, you wanted to make a pound of praline paste for a mid-day snack.
You'd use:
8 ounces (1 cup plus two tablespoons) granulated sugar
2 ounces (1/4 cup) water
4 ounces (1 cup) blanched almonds (113 grams)
4 ounces (1 cup) hazelnuts (peeled makes the best presentation)
Place the nuts on a sheet of lightly greased parchment paper or a silpat. Then simply add the water to the sugar in a small saucepan and heat it over high heat, swirling until the mixture turns to caramel. Dark amber is usually the degree most pastry makers cook to, though you can go darker for a stronger flavor. Pour the caramel over the nuts and allow the mixture to cool completely. Then break the praline into pieces and grind them as finely as you can in a food processor until a paste forms. It won't be as smooth as commercially-made praline paste, but the flavor will be, well…you've got to try this stuff to believe it.